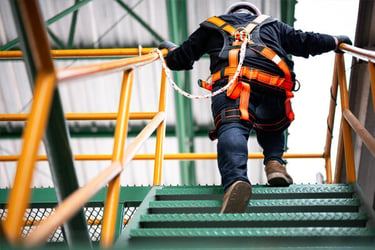 This year marks the 10th anniversary of the National Stand-Down to Prevent Falls in Construction campaign led by the Occupational Safety and Health Administration (OSHA). The Stand-Down is one of OSHA's most successful safety awareness campaigns that reaches far beyond construction sites, bringing awareness to fall hazards and reinforcing safe work practices that help prevent fatalities and injuries related to falls.
Falls are preventable, and yet falls from elevations remained the leading cause of death in 2021 accounting for 378 of the 986 construction fatalities and 680 of the 5,190 fatalities in all industries (source: Bureau of Labor Statistics). Unfortunately, these construction fatal fall figures represented a nearly 8% increase from the 2020 numbers.
Understanding Fall Restraint
Through Haberman's relationship with Clark Insurance, our clients have access to Clark's Safety & Risk Consulting department. This team delivers businesses with quality safety & risk inspections and trainings – working with just about every employer sector to address both the common and unique risks that challenge the health and safety of employees as well as the employers' property and assets. It's important to understand the safety measures that can be taken to reduce these risks, especially surrounding slips, trips, & falls.
Fall Arrest v. Fall Restraint
Fall Arrest and Fall Restraint are two methods for providing fall protection to employees working at height.
The key difference is that in a Fall Arrest system, the employee can fall, but will be protected from contacting a lower level. In a Fall Restraint application, the system is designed so that the employee cannot physically reach the fall hazard, preventing them from being able to fall in the first place.
Consider some of the advantages to using a fall restraint system when the work location allows for it.

Benefits of Fall Restraint
Reduced Hazard: When you implement a fall restraint system, the user is prevented (or restrained) from falling. This eliminates concerns regarding potential struck against hazards, swing fall hazards, and suspension trauma.
Reduced Anchor Strength: ANSI Z359.2 recommends a minimum anchor strength of 5,000 lbs. per user for fall arrest, but allows for a reduced anchor strength of 1,000 lbs. per user for fall restraint.
No Rescue Planning: If you eliminate the potential for an employee to fall, you eliminate the need for rescue planning or for staging rescue equipment. Not only is this a safer option for employees, but it can also reduce overhead cost.
Tips for Success
Even if you're using a fall restraint system, you should still develop a Fall Protection Plan that details the work location, anchorage locations, specific gear needed, and any administrative controls for proper use of the system.
Employees should be trained on the Fall protection Plan, and be aware of what they need to do to maintain a fall restraint system.
Adjustable shock absorbing lanyards can help to add versatility and additional adjustment to a system (most can adjust between 4.5 and 6 feet).
Be aware of changing conditions, and ensure that the Fall protection Plan is updated regularly.
Your Trusted Safety Resource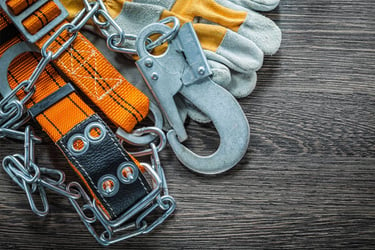 Haberman is proud to offer our Safety & Risk Consulting services to our valued customers, a service working in tandem with your customized coverage, highest quality customer service, and In-House Claims Management. Delivering businesses customized plans and trainings that will address the health and safety risks in your company, the Safety & Risk Department will work with you to help prevent future insurance claims – they are here to help your company succeed, alongside the other members of your Clark team. Contact your agent directly or reach out to us here.
National Safety Stand-Down to Prevent Falls in Construction
The Stand-Down is part of OSHA's ongoing National Campaign to Prevent Falls in Construction, launched in 2012 with the National Institute for Occupational Safety and Health, The Center for Construction Research and Training, and NIOSH's National Occupational Research Agenda. The fall prevention campaign has been working to provide resources to the construction industry to prevent falls for 12 years. Other key groups that assist in this effort include OSHA-approved State Plans, state consultation programs, the American Society of Safety Professionals, the National Safety Council, and the OSHA Regional Education Centers. Learn more here.