Whether you're cruising down the highway on your motorcycle far, far away from Springfield or heading to work, you're taking risks. You could be injured in an accident or ditch your bike beside the road. Consequently, it's up to motorcyclists to take extra precautions, drive defensively, or even complete a motorcycle safety course, which could lower motorcycle insurance premiums.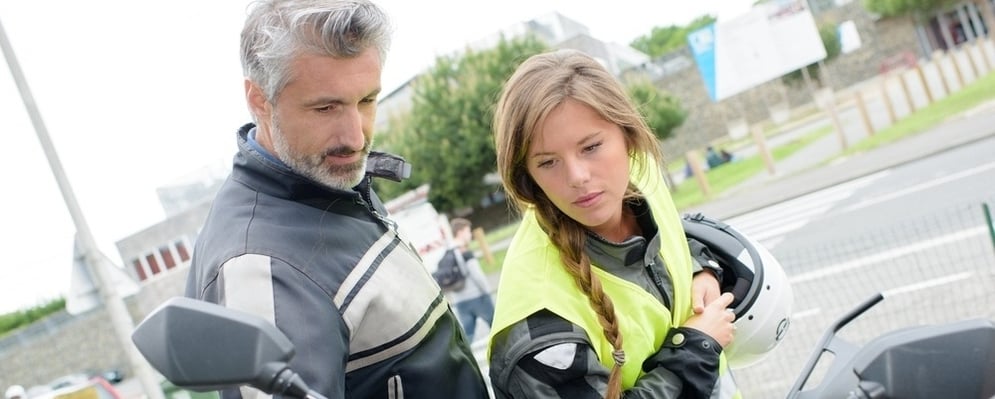 Motorcycle Tips That May Reduce Injuries, Save Lives, or Help to Lower Motorcycle Insurance in Springfield
Motorcycle Safety Courses
Massachusetts residents are fortunate to have 27 locations operated by 12 different safety schools for motorcycle training. New or experienced riders can attend courses through the Massachusetts Rider Education Program (MREP). Junior riders (under 18) must first attend the basic MREP to qualify for their motorcycle license. Classes are available for beginners and advanced riders.
Taking a safety course can help to improve your driving, which helps to lessen risks. Consequently, most insurance companies look favorably on drivers that have completed approved safety courses.
From a personal standpoint, after completing the course, you may reduce your chances of being injured or having an accident. With improved driving skills, you might better avoid traffic violations, and you're chances of damaging your motorcycle could be reduced.
Taking Precautions Helps to Reduce the Severity of Accidents
Smart driving means avoiding accidents and injuries by driving defensively. Watching out for other careless drivers and avoiding hazards as you drive may prevent injuries or save your life. However, you can't always avoid accidents, so it's necessary to wear protective gear to lessen your chances of injuries.
Helmets
Statistics show that helmets can save lives. Drivers and passengers must wear helmets in the state of Massachusetts. Try on at least several helmets to get one that fits well when buying one. It should grip the jaw and cheeks and the sides and top of the head. Refrain from purchasing used helmets that may already be damaged. The best helmets for protection are full-face helmets.
Clothing
Leather jackets, shirts, and pants offer good protection against some types of skin injuries when hitting the pavement. Typically, leather offers a bit more protection than jeans.
Boots
Avoid wearing cowboy boots or tennis shoes, which don't offer much protection. Instead, chose quality motorcycle boots designed with a rubber sole. They should be constructed of leather with reinforcements around the calf, ankles, and shin areas.
Gloves
Good quality gloves can offer riders protection when they reach out during a crash.
Armor
Some clothing comes with armor built in, but you may also buy it separately to wear under motorcycle gear. Memory foam proves the best impact absorption. Other options include hard armor made from impact-resistant plastic and foam armor, which provides the least protection.
Reducing Motorcycle Insurance Costs in Springfield
Consider buying bikes with smaller engines, which typically costs less to insure.

Completing a motorcycle safety class that's approved in Springfield could reduce motorcycle insurance by 10 to 15 percent.

Bundling your motorcycle coverage with a homeowner's policy can help to reduce insurance costs.

Insurance carriers also take into account how long you've been riding motorcycles, tickets, and any accidents and the amount of experience you have with your current bike. Riding experience typically lowers your risk of an accident and may be helpful to reduce insurance costs.
Wearing protective gear while riding makes good sense and reduces injuries. Taking a safety course can help to prepare you for the dangers on the road, which may also reduce motorcycle insurance costs in Springfield, MA. If you have any specific questions, feel free to give your local insurance agent a call to get some extra guidance. Happy riding!
This material is for informational purposes only. All statements herein are subject to the provision, exclusions, and conditions of the applicable policy. For an actual description of all coverages, terms, and conditions, refer to the insurance policy.