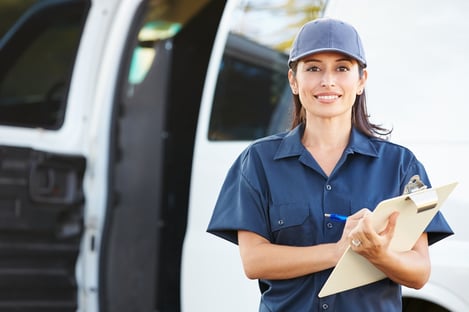 Massachusetts, like many other states, requires all vehicles to have auto insurance. For Springfield businesses, that means making sure all company-owned or used vehicles are covered under their commercial insurance policy. This important coverage helps to protect your business, paying for property damages, liability claims, and more as determined by your specific policy.


Commercial Insurance: Auto Coverage to Protect Your Company
Drivers face many hazards on the road. Collisions with property, other vehicles, and pedestrians can cause expensive damages. If a vehicle is being used for your business purposes, your company could be liable for these damages. Purchasing auto coverage as part of your commercial insurance package can help cover these costs, and is required by law for Springfield businesses that use vehicles.
What types of businesses need commercial auto coverage?
Any business that uses vehicles probably needs commercial auto insurance. This includes businesses that:
Deliver or transport goods

Transport people for a fee

Own or lease one or more vehicles

Have a vehicle permanently equipped with ladder racks or toolboxes that are used for business
What situations are covered?
Commercial auto insurance is similar to personal auto insurance, in that the coverage varies between policies. You should discuss your specific needs with your insurance agent to determine the best coverage for your business. Common coverages include:
Property damage liability and bodily injury liability (required by law)

Personal injury

Collision

Under- and uninsured driver

Rental car

Towing

Non-owned auto coverage
What is non-owned auto coverage and why should it be included in your commercial insurance policy?
Even if your company does not own vehicles, that does not mean you do not need auto insurance. If your employees are using their personal vehicles for company business and get in an accident, they may not be covered by their personal auto coverage. Examples of this are employees using their own cars to deliver pizza. Because this is a business activity, the damages would need to be filed under a commercial policy.
Non-owned auto coverage can apply to any vehicle used for your company purposes that is not owned by the company. Rental cars, borrowed cars, and others should automatically be covered if being used for your business, making this valuable coverage for many Springfield businesses.
Will commercial auto cover personal use?
If a company-owned vehicle is being used for personal activities, such as shopping in Springfield, it can still be covered under your commercial auto insurance policy. While you should discuss the specifics with your agent and understand your policy, owned vehicles under a commercial auto insurance policy are typically covered for both personal and business activities.
If your Springfield business owns or uses vehicles for any businesses purposes, you should speak to your agent about obtaining auto coverage under your commercial insurance policy. By Massachusetts state law, all vehicles must carry a minimum amount of liability coverage. Your agent will be able to help you find a policy tailored to your business needs and budget.




This material is for informational purposes only. All statements herein are subject to the provision, exclusions and conditions of the applicable policy. For an actual description of all coverages, terms and conditions, refer to the insurance policy.